I hope you like the fourth part of this series! In this post I'm writing about a few DIY bird feeders that you'll love making, and the birds will love using! If you want more ideas, check out my previous DIY bird feeder post here.
1. Bowl and plate feeder:
This feeder is pretty simple, all you need to do is drill a hole in the plate and attach the bowl. For the complete instructions, click here.
2.Wine bottle bird feeders:
To make these beauties just get a small plate or saucer, an old wine bottle, a drill, and some wire to hang it from (if you want to hang it). Drill holes at the bottom of the bottle and place the bottle on the saucer. If you're hanging the feeder, secure the saucer onto the bottom of the bottle. Wrap some wire around the top and form a hook, fill the feeder with seed and there you go! Via thegardenroofcoop.
3. Shoe feeder:
I'm pretty sure this proves you can make a bird feeder out of anything! Just nail your shoe into a tree and fill it with seed, or leave it there and let the birds make a nest.
4. Spoon bird feeder:
This feeder is not only cute and creative but also very easy to make! Simple drill four holes in a bottle and stick the spoons through them, just make sure you angle the spoons down so the seed flows into them. Via Pinterest
5. Milk carton feeder: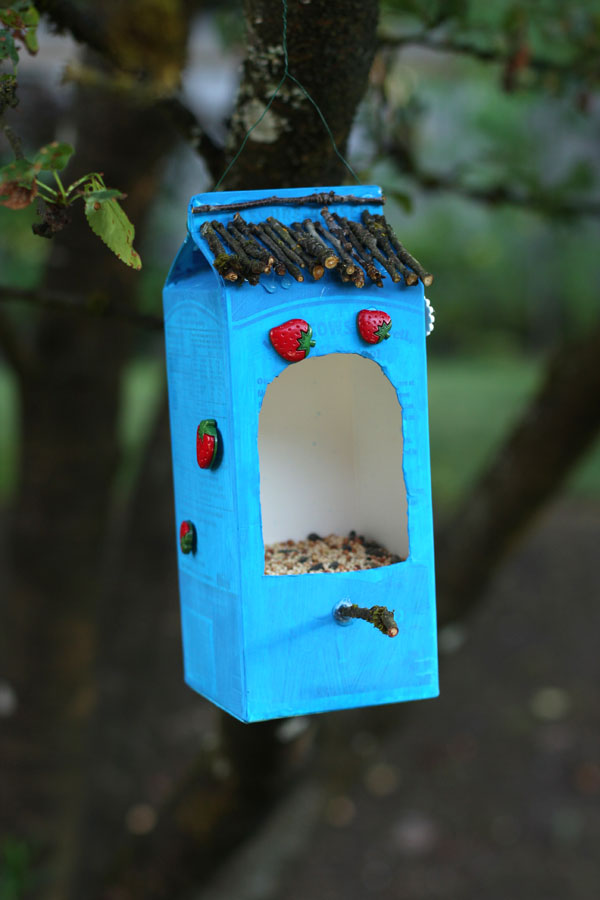 This carton is very easily personalized, and it's a great craft to do with kids. All you need to do is cut a few openings in the carton and add a perch if you want. You can paint it, add twigs to the top for a cute roof look, the possibilities are endless!
6. Teapot bird feeder:
This feeder is so cute, and easy too! Simply attach the teapot to a tree or the side of your house and plug the spout. You can either fill it with seed or leave it as a house.
7. Teacup turrets:
These cute towers are very simple to make, simply find a pole or post and place the teacups and saucers on top. You can secure them with velcro, but I wouldn't recommend nailing them because they'll fill up with rainwater. Via RockiesCrafts
8. Pinecone bird feeders:
These classic bird feeders are cheap and simple; just slather peanut butter onto a pinecone and roll it in bird seed.
9. Mesh bag suet feeders, 10. Cheerio string feeders, 11. Bagel feeders
To make a DIY suet feeder, use the mesh produce bags and string them together or hanging them separately.  For a string Cheerio feeder, use yarn or twine to thread Cheerios into a string and hang them anywhere. Coat a bagel in peanut butter and roll it into a bird seed mix to make a bagel feeder.
12. Lego bird feeder:
To find instructions to make this fun feeder, click here.
13.  Rainbow ice feeders:
If you live in a cold climate, these feeders are perfect for you! Click here for the tutorial.
14. Road map bird feeders: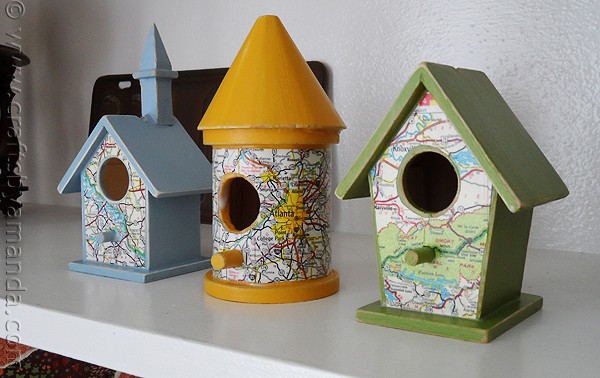 These cute houses are really just for decoration, but they're too adorable not to share! Find the instructions here.
15. Grapevine bird feeder:
These are just so beautiful! You can use an old grapevine ornament or buy one, but this feeder is definitely a must-have if you prefer the natural look. Click here for the instructions.
16. Bowl tier feeder:
I love the multiple uses for this feeder, as well as the recycling factor. Just puncture some old take-out container and connect them with straws and yarn or twine. Birds can easily get dehydrated in the summer, so I love the water feature.
17. License plate feeder:
Unfortunately I couldn't find instructions for this project, so you'll just have to wing it. (Pun intended)
18. Glass jar bird feeder:
This charming feeder is perfect for all of those lidless jars lying around the house. All you need is a jar and some wire or twine. You can find different ways of securing the jar depending on its size and shape, and have fun being creative!
19. Porch swing feeder:
This delightful little swing can be made or purchased at a local craft store. Just use popsicle sticks and glue to piece it together and you'll have a cute little swing feeder.
20. Tire swing feeder:
You can go to your local craft store and find a mini tire fairly easily, and just use jute twine to hang it.
21. Window feeder:
I don't think you can really make these yourself but they're so cool I thought I'd add them anyways.
22. Gumball machine bird feeder:
You can probably find a plastic gumboil machine at a craft store or dollar store, then figure out a way to hang it and you have your very own vintage bird feeder!
23. Shovel head feeder:
If you have any old shovels or spades lying around, this is the perfect project for you! Simply remove the handles and nail them into a tree, making sure there are no sharp edges.
24. Old ladle feeder:
Sadly, the only instructions I could find for this rustic feeder are in a different language, but if you want to look anyway click here.
25. Lamp bird house:
Just put this on a post and its straight from Narnia! Instructions at hometalk.com
Thanks for reading! Come back next week for the last post of this series!