Welcome back to my series about SCUBA diving! I think one of the easiest ways to learn about life is to see it up close, so today I'll be showing you some of the best places to do so. Of course, you still may have your doubts about diving, after all SCUBA diving is rather expensive. But after seeing these gorgeous diving sites, you'll want to sign up ASAP!
Blue Heron Ridge, Riviera Beach, Florida, USA
This curious paradise is only 12 feet deep, so be sure to go during high tide! Home to flying gurnards, bandtail sea robins and striated frogfish, this gorgeous ridge is certainly a beautiful Utopia.
2. Kona Mantas- Big Island, Hawaii, USA
These dives are often during nighttime, and I would absolutely love to go here! These fascinating mantas cluster in groups of a dozen or more on a good night, and they must certainly be a sight to see!
3. USS Vandenberg, Key West, Florida Keys, USA
Home to barracuda and huge Goliath grouper, this incredible diving site is one you won't forget!
4. Isla Mujeres, Mexico
Dive with hundreds of whale sharks as they migrate in Isla Mujeres!  Every June to September, these humungous sharks swim in search of food along the Yucatan coast.
5. Palancar Horseshoe, Mexico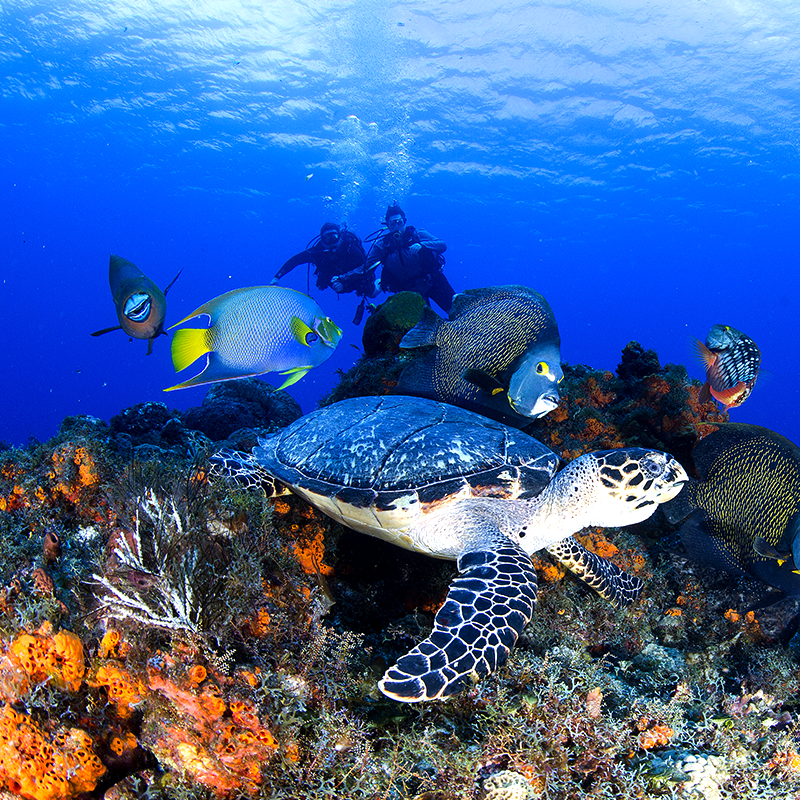 Home to hundreds of species of fascinating animals and corals, the Palancar Horseshoe is a must-see for any diver.
6. Darwin's Arch, Galapagos, Ecuador
As so eloquently stated by David Espinosa, "Is Darwin's Arch the best dive in the world? If it's big animals you crave, then yes, Darwin's Arch is the best dive in the world. It's got everything, really (except for macro and reefs): massive whale sharks that patrol the blue, so many turtles you'll experience burnout, burly Galapagos sharks, tiger sharks on the safety stop, free-swimming moray eels, eagle rays and — lest we forget the stars of the show — schooling hammerheads that blot out the sun. This isn't a list from a single destination; it's a list from a single dive. A dive you'll soon declare is the very best in the world."
7. Gran Cenote, Riviera Maya, Mexico
This is definitely one of the best diving spots for cave lovers, and the water is clear and shallow too!
8. Blackish Point, Utilia, Bay Islands
This lesser known spot is named after the dark volcanic rock it sits on. The upper part of this site is covered in beautiful corals, and if you dive further down you can explore mysterious caverns that shelter all sorts of creatures.
9. Pedras Sacas, Fernando de Noronha, Brazil
This off-radar nirvana is 224 miles from the mainland, and flaunts pristine waters and rock formations that protect a variety of sea life.
10. Half Moon Caye, Lighthouse Reef Atoll, Belize
This breathtaking drop-off is the perfect wall dive! Brooke Morton describes it like this: "Half Moon Caye Wall in Belize is exactly what you'd expect from a wall dive — and much more. Start with the vertiginous feeling of peering down into the abyss. Visibility extends to impossible depths, so not an eagle ray, loggerhead turtle or tarpon will pass by unnoticed. Course through the warren of caves and swim-throughs that shelter groupers, barracudas and moray eels. Spend the safety-stop daydreaming among a field of rosy razorfish, conch and garden eels."
11.
I hope you loved seeing a glimpse of these gorgeous places, and be sure to comment what your favorite dive spot is!